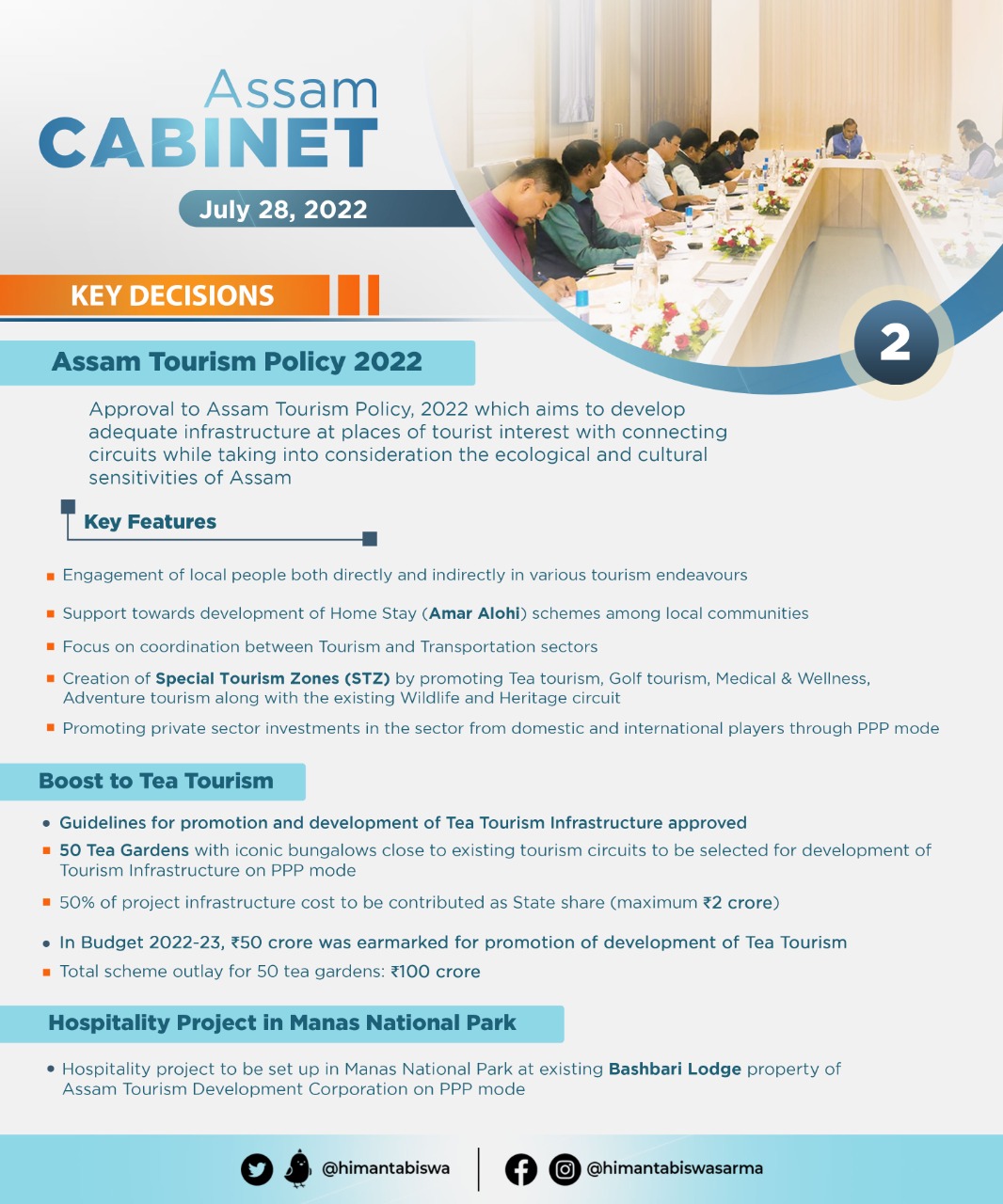 Cabinet Decisions taken on 28 July 2022 (2)
1. Assam Tourism Policy 2022 ------> Approval to Assam Tourism Policy, 2022 which aims to develop adequate infrastructure at places of tourist interest with connecting circuits while taking into consideration the ecological and cultural sensitivities of Assam --> Key Features = ·i) Engagement of local people both directly and indirectly in various tourism endeavours. ·ii) Support towards development of Home Stay (Amar Alohi) schemes among local communities. ·iii) Focus on coordination between Tourism and Transportation sectors. · iv) Creation of Special Tourism Zones (STZ) by prompting Tea Tourism, Golf Tourism, Medical and wellness, Adventure tourism along with the existing Wildlife and Heritage Circuit. ·v) Prompting private sector investments in sector from domestic and international players through PPP mode.
2. Boost Tea Tourism ------> Guidelines for promotion and development of Tea Tourism Infrastructure approved --> ·i) 50 Tea Gardens with iconic bungalows close to existing tourism circuits to be selected for development of Tourism Infrastructure on PPP mode. ; ·ii) 50% of project infrastructure cost to be contributed as State share (maximum Rupees 2 crore) ; ·iii) In Budget 2022-23, Rupees 50 crore was earmarked for promotion of development of Tea Tourism ; ·iv) Total scheme outlay for 50 tea gardens: Rupees 100 crore .
3. Hospitality Project in Manas National Park · Hospitality project to be set up in Manas National Park at existing Bashbari Lodge property of Assam Tourism Development Corporation on PPP mode.